At a meeting of the Dún Laoghaire-Rathdown's Dundrum Area Committee on 7th June, I called on the NTA to add a regular, reliable Dublin Mountains bus service as part of its Bus Connects project. I proposed a motion for a letter to be sent to the NTA calling for the service and inviting them to present their proposals to the committee. My motion was unanimously agreed by councillors.
The text of the motion reads: "That this Area Committee: – calls on the NTA to introduce a fit-for-purpose bus service to serve the staff and users of the many fantastic recreational amenities of the Dublin Mountains, ensuring it connects with the Luas and serves facilities at Glencullen, Tibradden, Ticknock, Kilmashogue, Rockbrook and Cruagh; – requests the NTA to attend this Area Committee to provide an update on progress in this regard by year end of 2023; – writes a letter to the NTA to this effect, cc-ing the Dublin Mountains Partnership, Coillte, the DLR Tourism team and DLR Chamber."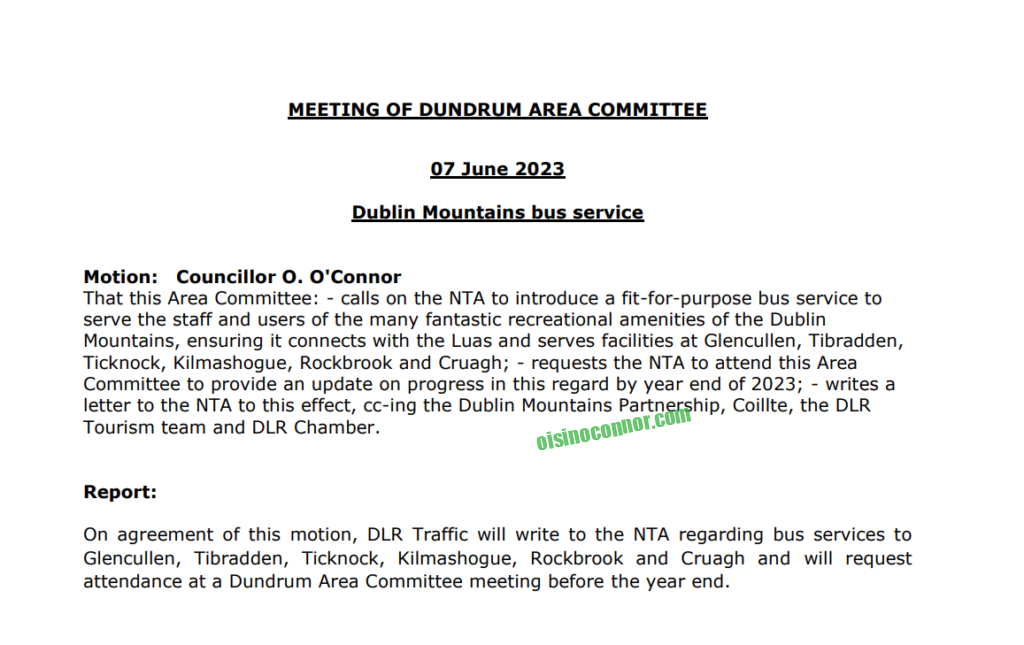 Join the call for a Dublin Mountains bus service
Tell the NTA you support this bus service by signing the online petition
It's been fantastic to see the growth of amenities in the Dublin Mountains used by all Dubliners and this brings with it challenges of transport accessibility. We have mountain biking, zip lining, athletics, rugby, multi-sports pitches as well as all the popular Coillte trails that have been popular with walkers and nature lovers for years.
The amount of amenities in this area have grown over the years and now include:
Hiking and orienteering at various locations
Mountain biking at Glencullen Adventure Park and Ticknock Forest
St Thomas' Sports Campus, the home of DSD Athletics
Zipit Forest Adventures in Tibradden Wood
Larch Hill International Scouting Centre on Mutton Lane, Tibradden
Fernhill House & Gardens including new playing pitches
Heavey Technology Park, home of Stillorgan-Rathfarnham RFC
Pine Forest Arts Centre
Various golf clubs
I'm asking the NTA to bring in a bus service that operates weekends and hours that suits visitors, staff and local residents. Parking troubles in the area are well-known and many Dubliners cannot drive or have no access to a car so a bus service would solve many issues all at once. With the newly proposed bus interchange next to Dundrum Luas station, a service could be provided that links up with the growing public transport network in the city. I look forward to the NTA's response and I hope they will accept our invitation to present their proposals to this committee later this year.
The Dublin Commuter Coalition have also called for a service that enables better public transport access to the Dublin Mountains. We need advocacy organisations campaigning on these issues and I'm happy to back them up with local political support here in the area the bus service would run through.