The owners of the infamous Sentinel building in Sandyford have lodged a new planning application for 110 apartments. The application will be decided by Dún Laoghaire-Rathdown County Council and the closing date for submissions is 30th August 2023.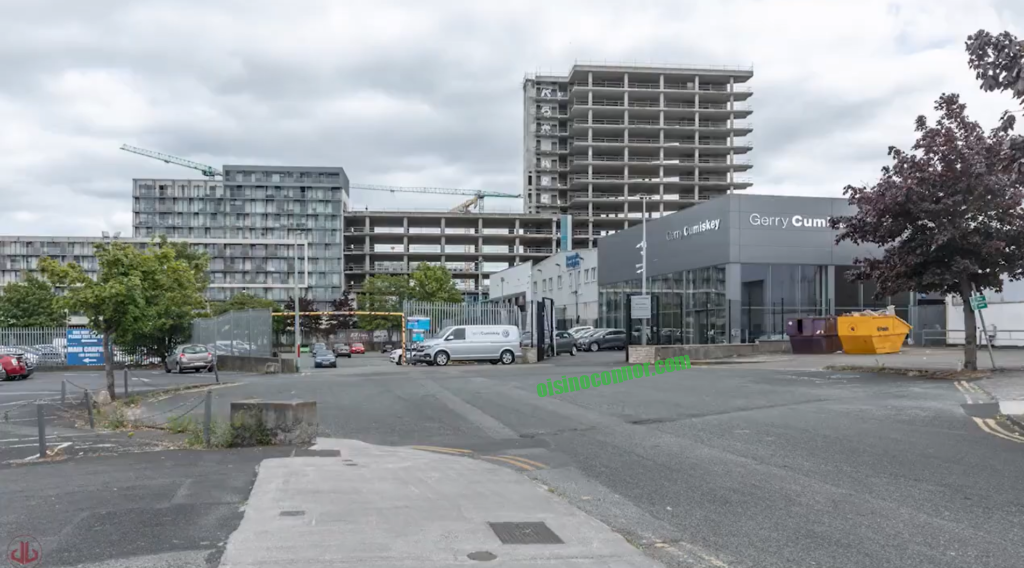 Summary of Sandyford Sentinel planning application
Full details of the proposals are available on the Council's planning website here. Some key info I've pulled out of it:
110 apartments. 20% proposed are 1-beds, 55% of units are 2-beds and 25% are 3-bed apartments. Note: DLR requirement is for a minimum of 20% 3-beds.
Roof terrace communal space, residents' community rooms and a residents' gym.
The owner of the Sentinel building is proposing to add two storeys to the 6 storey section of the building. Note: the tall part of the existing building is 14 storeys high – no increase is being proposed to this part.
Access is proposed from Blackthorn Drive.
Bike, motorbike and car parking is proposed at basement level including EV charging points. There is also bike parking proposed on the ground floor.
The company making the application are called "Dante Property Company Ltd", but it is widely known that the building is owned by the Comer brothers.
The planning documents have yet to be uploaded and I will do a more detailed post once they are released.
It's disappointing that the developers previously put out a video saying that there would be a creche and retail units within the Sentinel building. This no longer seems to be the case in this application.
Other background information
The building was left unfinished when Cork developer John Fleming declared bankruptcy in 2010 and it has been reported that the Comer brothers bought it for €850k shortly after.
Earlier this year, the brothers purchased the site next door, "Rockbrook", which was already granted planning permission for 428 apartments back in 2019. They have said they intend to build them together as Rockbrook improves basement access for the Sentinel. "Our Sentinel building never had any proper rights to suitable access since we bought it unfortunately. When the Rockbrook site came up for sale we saw it as an opportunity to provide basement access to our Sentinel site, we took this opportunity and are now gearing up to start construction in the next few months." a spokesperson for the developer told the Business Post in April of this year.
The new Rockbrook apartments will be built in two blocks ranging in height from six to 14 storeys and will include amenity space, a gymnasium, lounges, games room, a panoramic function room, a crèche and café.
According to this sign from the developers, works will start on the Rockbrook site in the coming weeks. Based on similar projects nearby, I'd estimate it'll take 2 years to build.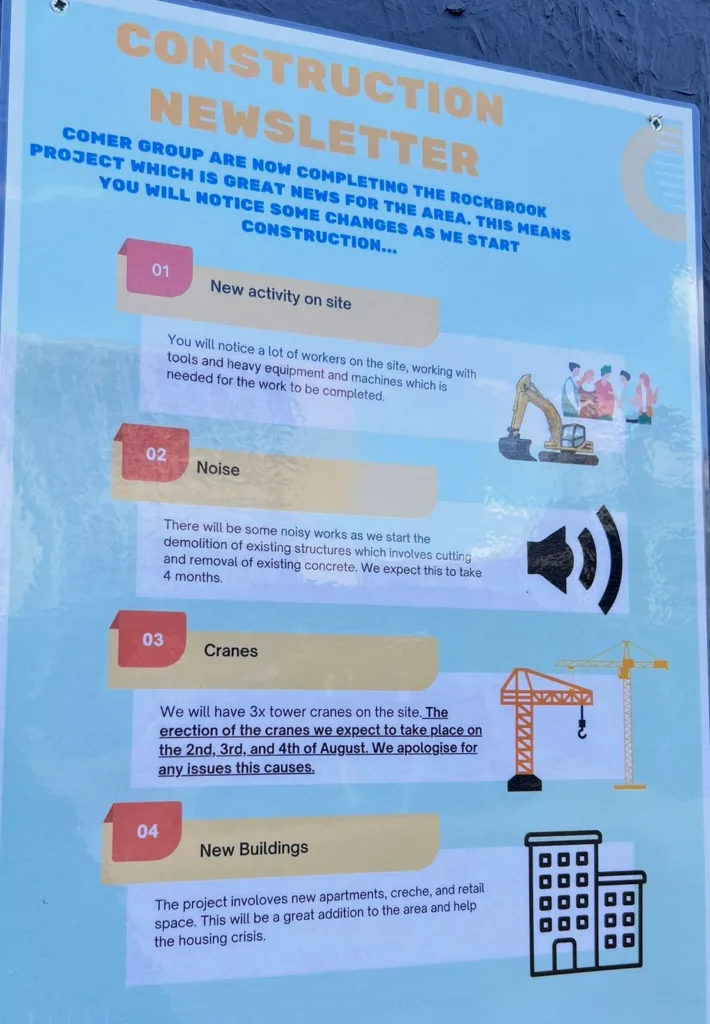 That site also adjoins Sandyford Central where Richmond Homes is nearing completion of 564 apartments spread over six blocks ranging in height from 10 to 17 storeys. As well as residents' amenities such as a gym and crèche, it will have a café and new link between the Stillorgan Luas stop and Beacon South Quarter.
With all developments under construction, awaiting planning permission or with planning permission, there are potentially 1,764 new homes in this small area. That would be more homes than were built in the counties of Kilkenny, Laois or Tipperary between 2016 and 2022 (Source: Census 2022).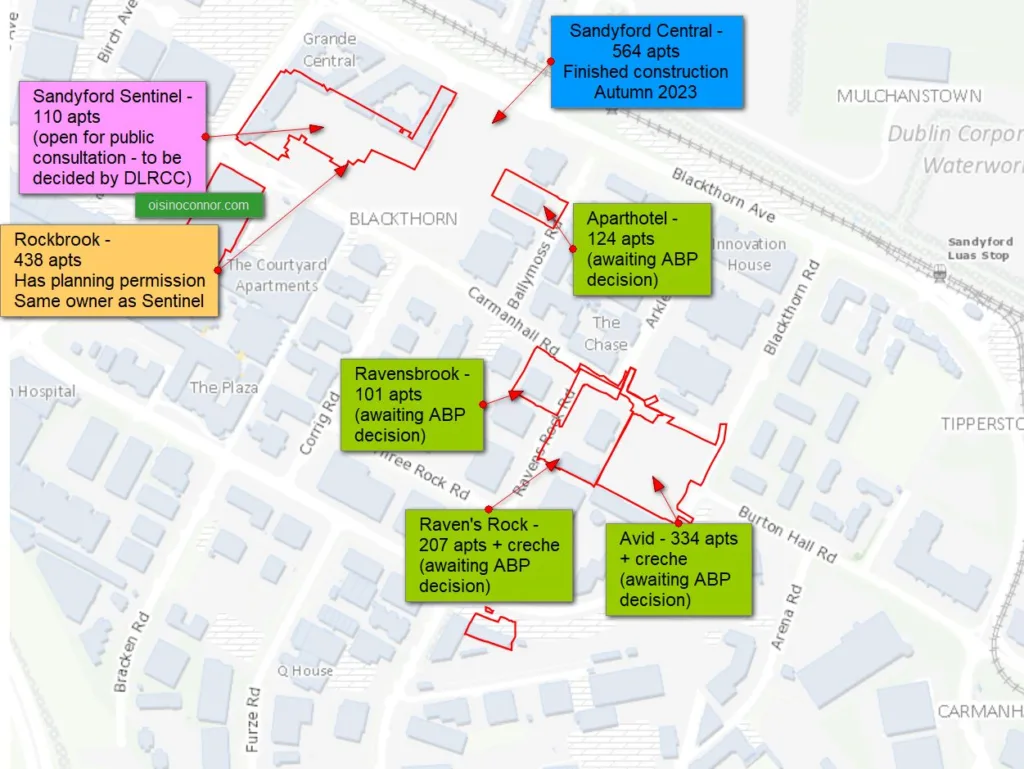 There is supposed to be a creche in both the Rockbrook and the Sandyford Central developments.
Making a submission
Submissions on the Sandyford Sentinel planning application can be made to Dún Laoghaire-Rathdown through the ordinary procedure up until 30th August 2023. You can find all relevant information on the planning application portal.
I will be making a submission, but first will wait for all of the planning documents to be uploaded so that I can study them in detail. In general, I welcome the overall development of both the Sentinel and Rockbrook sites, as they would provide much needed homes for purchase or rental, near public transport, employment opportunities and existing infrastructure.
If you have any views on the planning application for the Sandyford Sentinel, please don't hesitate to contact me and I will consider including your points in my own submission.